1986 born in Hamburg. According to B.A. in theater and media at the University of Bayreuth, she completed her studies in 2017 at the Art Academy for Media Cologne with a focus on artistic camera. Her diploma film MAMA TOLD ME NOT TO LOOK INTO THE SUN received an honorable mention at the Cologne International Women's Film Festival for young talent in 2018. In the 2019/2020 winter semester, she taught at the KHM as an artistic and academic assistant.
She is a founding member of CINEMATOGRAPHINNEN, the German-speaking network for women cameramen and has been part of the INTO THE WILD mentoring program for young female filmmakers since 2017. With her production company LEUCHTFEUER FILM, she received a scholarship from the Mediengründerzentrum NRW in 2018. She is a junior member of the professional association for cinematography BVK. She lives and works in Cologne and Berlin.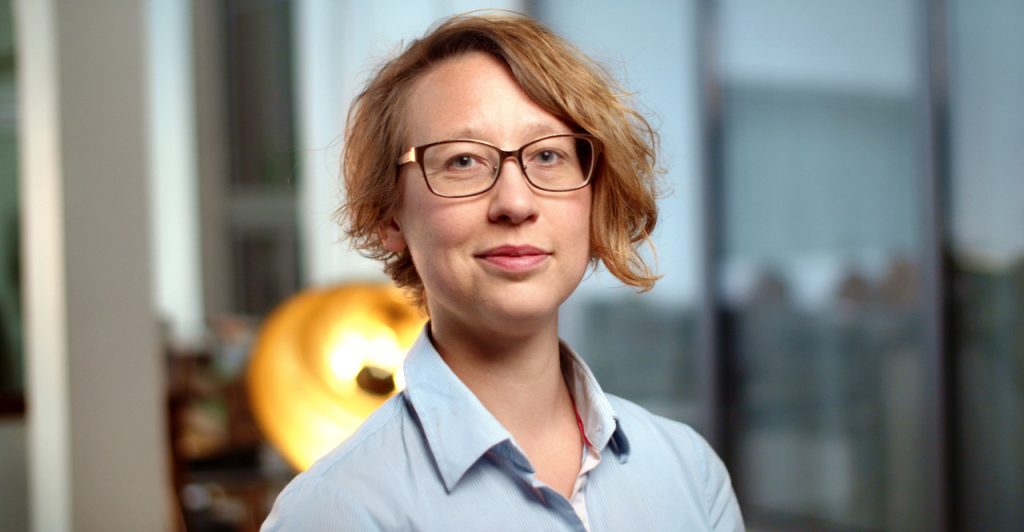 Interview in Three questions for Katja Rivas Pinzón
In every issue we ask our "three questions" to filmmakers from all trades. In issue 4.2020, Katja Rivas Pinzon, cinematographer from Cologne, told us why she values ​​multi-layered stories with female characters in the center and how important it is to her to live and work internationally. go to Article
What is your main focus of work?
My field of work comprises two areas. I mainly work as a camerawoman in feature films, both for cinema and television films as well as for series on the first or also the second camera. Depending on the project, I work primarily in Cologne and Berlin. I am particularly interested in multi-layered stories with female characters in the center. More stories like these are needed and the time has come. I see it as an opportunity to create differentiated images with the camera, to show what is depicted in the greatest possible nuances without losing any of its visual appeal. Images play a central role in cultural memory, especially in relation to the spread and establishment of general and gender-specific stereotypes. Therefore, I see myself and the entire industry responsible for showing new perspectives with technical sophistication and fun. In addition to the feature film work, I founded the company Leuchtfeuer Film with two colleagues. We are based in Cologne-Mülheim and produce video content for companies and institutions that have a social and cultural context. Whether it's a social spot, web series or documentary series: We produce content that deals with topics such as inclusion, integration and equality. Our clients include, for example, the WDR, the Goethe Institute and the State Agency for Media in North Rhine-Westphalia. These two areas of work complement each other perfectly and allow me to combine the experience of large, team-based projects with small, more flexible shoots and to try out new insights directly. The desire to tell relevant stories is what drives my work.
Are you a member in any association?
I have been a junior member of the BVK since the end of last year. At first I thought that I would need a lot more professional experience to become a member. However, in the negotiation phase for my first cinema project, so many questions and ambiguities came up that I asked the BVK for a consultation. That helped me a lot. These discussions are not easy, especially in the low-budget area, because there is generally little money. I noticed how useful it is to be able to fall back on many years of experience. Then I applied for membership. In general, the exchange with experienced colleagues made the time after my camera studies a lot easier. When I heard about the group of female cinematographers in 2017, I started to get involved there. The Cinematographinnen is a network of  female cinematographers designers from German-speaking countries who support each other. What started with a website and is has now grown into an extensive network. We meet regularly, organize industry get-togethers and workshops on various technical topics. Our goal is to fundamentally increase the visibility of camera women and thus actively shape the change in the film industry.
What are your passions outside of work?
The special thing about filmmaking is that it can be wonderfully combined with a wide variety of interests. Therefore, the question of "outside" work is not that easy to answer. The fact that I am enthusiastic about colors, rooms and light is of course part of the work, so my weakness for interior design and furniture design is obvious. I like to travel, preferably in combination with a specific project, but also without it. I am very interested in the stories and cultures of the American continent and their interfaces with my life. After living upstate New York for a year as a teenager, I later moved to France to work and then to Colombia to study. I lost my heart to this country. Living and working internationally and the associated change of perspective are very important to me.